AVAILABLE MARCH 26, 2019 from Ecco. Pre-order now!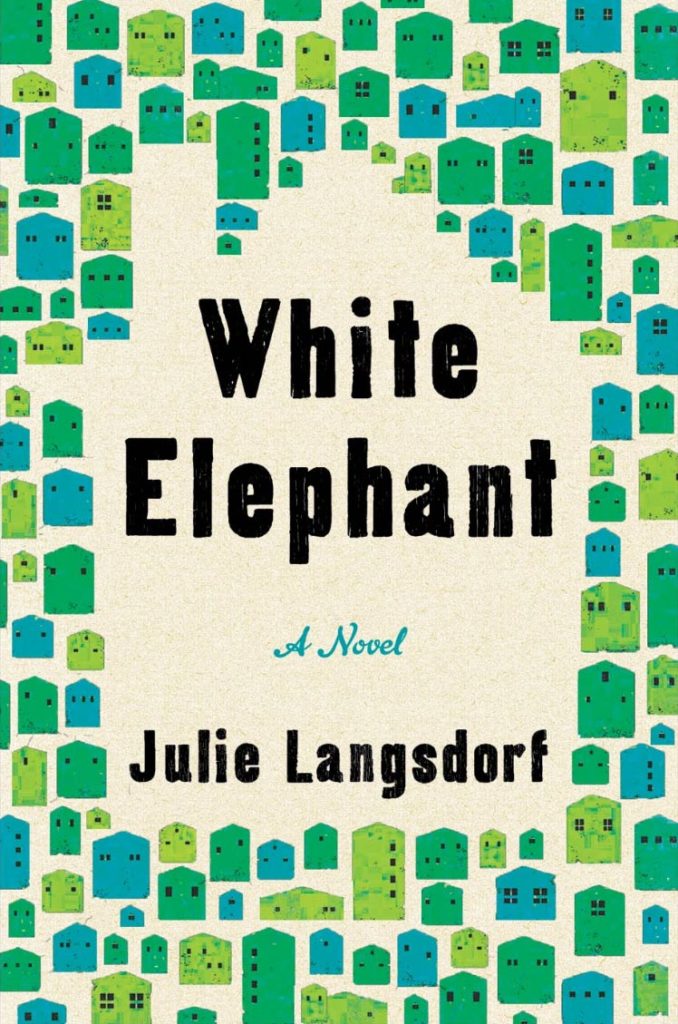 The White Elephant looms large over the quaint suburban town of Willard Park: an ornate, newly-constructed behemoth of a home, it soars over the neighborhood, dwarfing the houses that surround it. When owner Nick Cox cuts down Allison and Ted Miller's precious red maple—in an effort to make his unsightly property more appealing to buyers—their once serene town becomes a battleground.
Advance Praise
Named one of 12 new books to watch for in March by The New York Times, a most anticipated book of 2019 by The Millions and Bustle, a Southern Living Magazine best new book coming out in spring 2019, a best book of 2019 by Real Simple, a Library Journal winter/spring best debut, and a favorite book coming out in March by Women.com.
"Julie Langsdorf mines wit from the ways that people manage (or don't) to live in close proximity. Her smart, enjoyable suburban comedy is observant and knowing about social selves and hidden selves, and the ways in which they are sometimes made to overlap."
-Meg Wolitzer, bestselling author of The Female Persuasion

"Langsdorf's wry debut captures the fallout as neighbors turn on one another, trees are set on fire and the town seems poised to fall apart."
-The New York Times, 12 New Books to Watch for in March
"This ambitious and intriguing work about the American suburbs is perfect for fans of Ann Patchett or Meg Wolitzer."
-Publishers Weekly
"A smart, riveting look at what happens to a community when competing visions of the American Dream collide and combust. Langsdorf is a keen observer of human frailty and desire and her characters are darkly funny, recognizably exasperating and deeply memorable."
-Cynthia D'Aprix Sweeney, bestselling author of The Nest
"Neighborhood tensions come to a boil in Julie Langsdorf's funny new novel White Elephant, which explores what happens when suburban conflicts escalate, pranks go wrong, and dysfunction reigns."
-Southern Living Magazine, The Best New Books Coming Out Spring 2019
"This smart suburban drama (is) perfect for fans of Emma Straub's Modern Lovers and J.K. Rowlings The Casual Vacancy."
-Real Simple, The Best Books of 2019 (So Far)
"Langsdorf gleefully skewers small-town stereotypes, such as the sharp and ambitious real-estate agent, the suburban dad hiding a pot habit, and the sorority sister who can't figure out how she ended up unhappy. But beneath the caricatures are deeper truths about belonging, community, and relationships. In this smartly satirical novel, the raging feud reveals much about the residents' core values."
-Booklist
"Writing with wonderful wit and precision, Langsdorf arranges her characters as thoughtfully as the tree-lined streets in their idyllic planned community. Readers will delight in the recognition of their own neighbors on these pages where primitive, territorial instincts pulse just beneath the everyday pleasantries of soccer games, barbecues and town meetings. White Elephant belongs on the bookshelf next to Rick Moody's The Ice Storm and Richard Yates' Revolutionary Road."
-Ann Leary, bestselling author of The Good House
"White Elephant is a terrific debut, brimming with wit, well-honed prose and sharp observations into human nature. It's the kind of book I want to press into the hands of friends, because I know how much they will enjoy it."
-Cristina Alger, bestselling author of The Banker's Wife and The Darlings
"White Elephant is a delightful look at a picture-perfect DC suburb—complete with community theater, model Sears homes and neighborhood feuds. Langsdorf lets us peek into the windows of these cookie cutter houses and eavesdrop on the residents of Willard Park as they gossip, seek revenge and struggle with what it means to be a good neighbor. This debut is an absolute pleasure to read."
-Jennifer Close, bestselling author of Girls in White Dresses and The Hopefuls
"Julie Langsdorf's debut novel slams two conflicting ideas of the American Dream smack into each other with wit and wisdom…The dialogue is sharp and a mystery subplot adds a dash of suspense. Entertainment at its best.
-Shelf Awareness, starred review
"Lays bare the secrets and hypocrisies of 21st-century American communities hell-bent on preserving what may never have been."
-Library Journal
"Julie Langsdorf does a spectacular job of highlighting the inner workings of the American Dream…The dysfunction of a neighborhood and the inhabitants make such a perfect novel. White Elephant is here to make your March much, much better."
-Women.com